Withstanding temperature changes
In modern steel production, plant reliability plays an ­increasingly important role. Innovative and comprehensive ­refractory concepts are decisive when it comes to optimizing steel production processes in terms of performance and costs. In close cooperation with our customers, we develop, test, and supply perfect solutions.
Refractory linings must withstand extreme temperature changes, e.g. during cyclic tapping and casting operations.
The challenge
Practical examples: When being tapped into a casting ladle, the molten crude steel still has a temperature of 1650 up to 1720 °C. These temperature cycles represent a considerable stress for the joint structure (cobblestone formation). Further infiltration between wear lining and safety lining can even result in deformation of the ladle's steel top plates.
Our commitment:
Clear reduction of thermal expansion without negative effects on the typical properties of the MgO-C refractory bricks.
Thermomechanical ­loading
High thermomechanical loads are caused by the high thermal expansion of the MgO-C bricks.
Typical thermal expansion of an MgO-C brick with  10% remaining carbon:
1.1 % at 1000 °C –> 10 mm expansion / 1 m brick,
1.9 % at 1500 °C –> 19 mm expansion / 1 m brick.
This expansion can lead to high mechanical stresses in the refractory lining, which can reach critical levels in systems that are subjected to particularly high temperature changes.
Finally, the stresses can exceed the brick's mechanical strength, leading to fractures, spalling, joint wear, and generally reduced service life.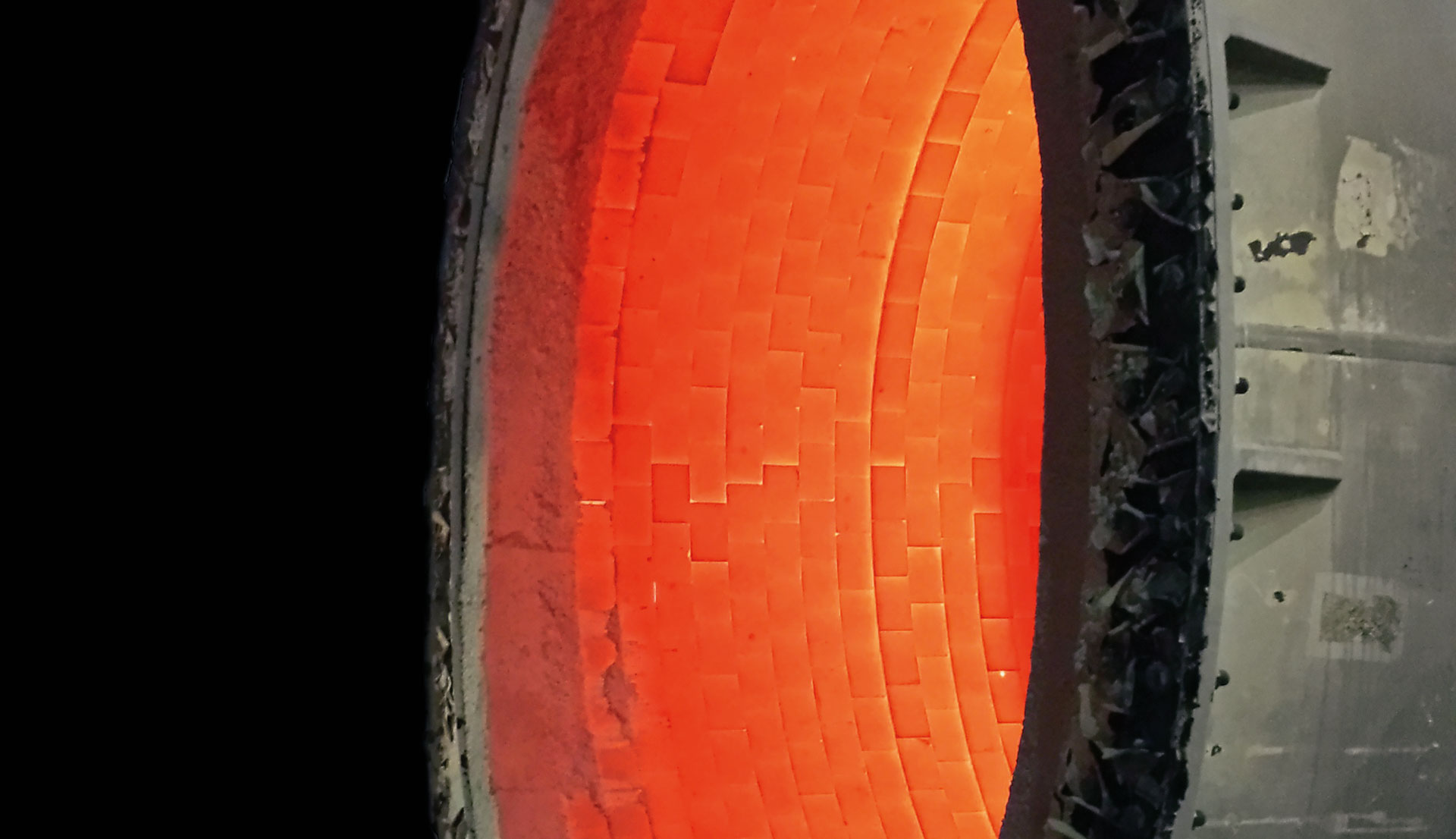 The solution:
Low-Alpha technology!
Based on the established MACARBON® brick versions, it was possible to prove that thermal expansion could be reduced by up to 30% by using Low-Alpha technology. The practical application of Low-Alpha technology has the following advantages:
No open joints or steel ­infiltration between wear lining and safety lining
Reduced joint wear ("cobblestone formation")
Thermal expansion reduced by 30%
Significantly improved ­performance of the refractory lining (regularly more than 90 heats)
Increased service life
The necessary wall thicknesses are maintained
Improved assessment of ­remaining brick thickness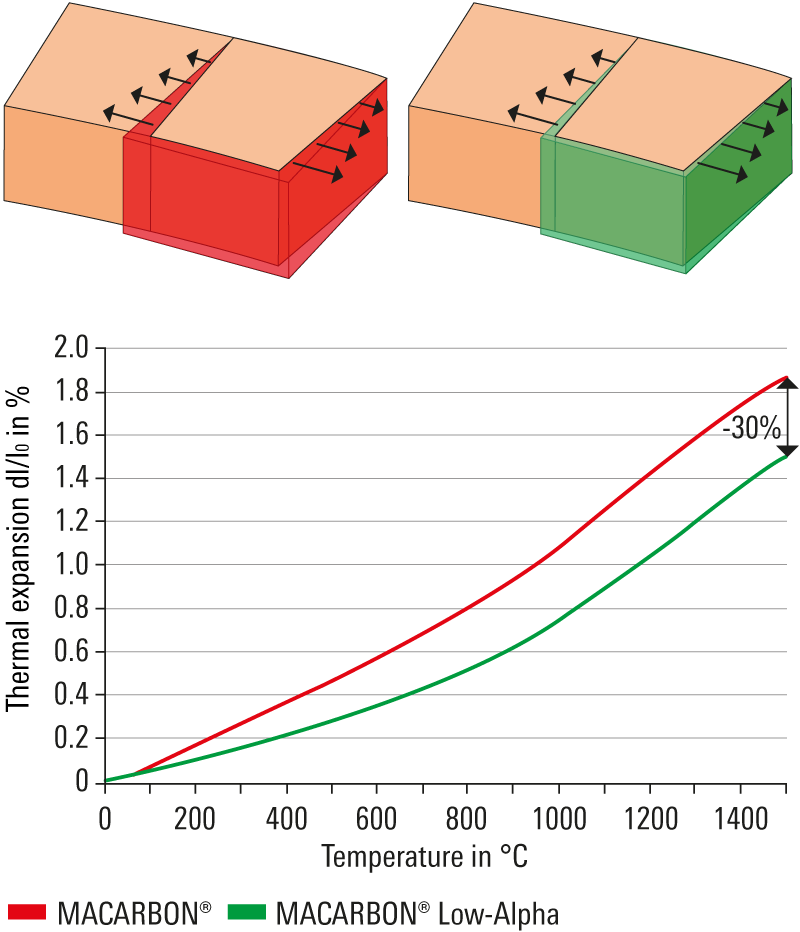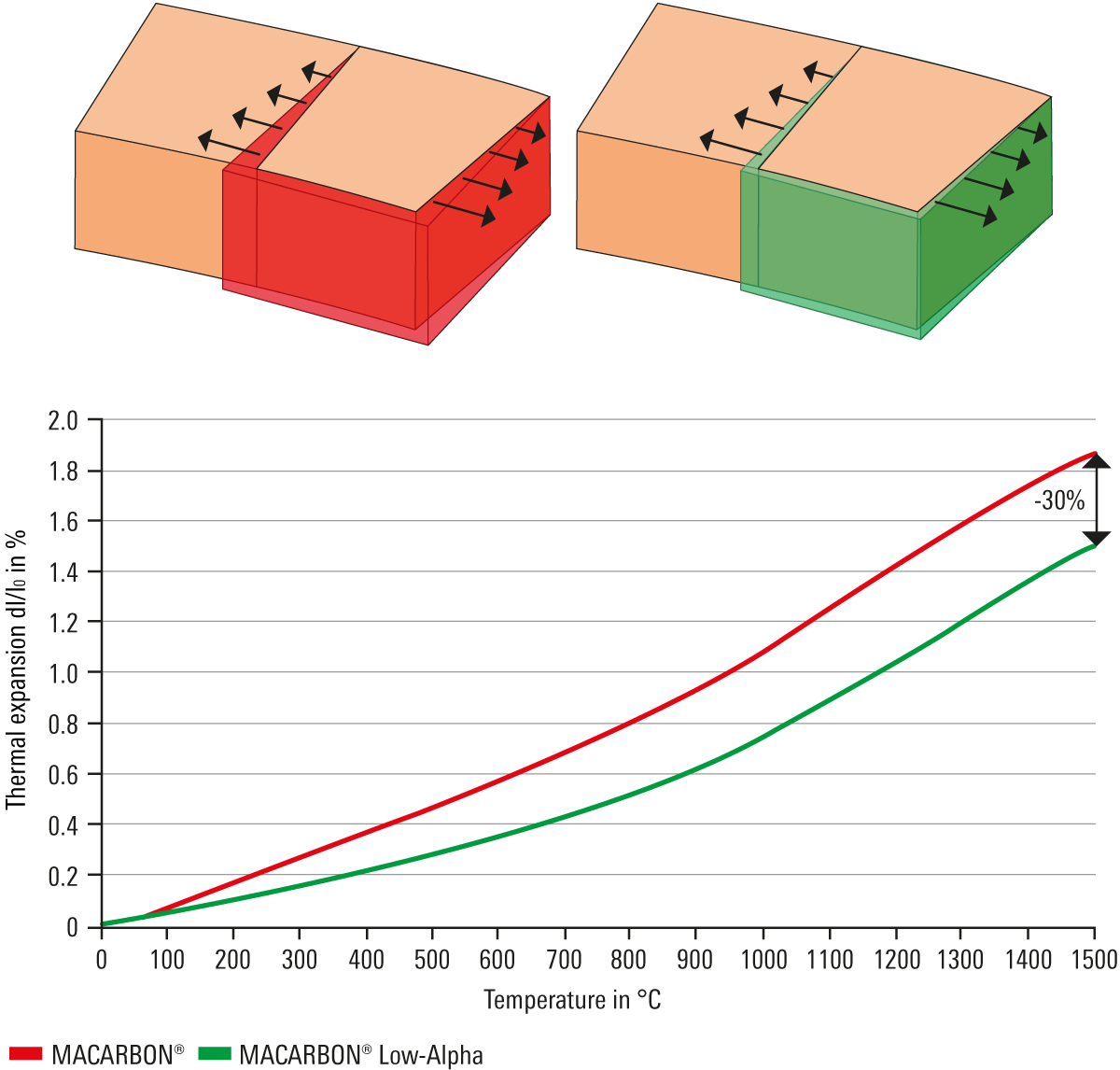 Simply essential
Refractory systems with Low-Alpha technology are ­essential for:
Extreme operating conditions with large temperature changes, e.g. modern steel casting ladles,
Equipment subjected to high thermomechanical loading,
Complex and demanding ­operating procedures.