Energy management at Refratechnik
Energy efficiency plays an important role along the entire ­value-added chain.
With a certified energy management system according to ISO 50001:2011 in every European location of the Refratechnik Group, we continuously ensure the systematic, resource-conserving, energy-saving, safe, and ­economical supply and use of energy. For this, we use modern software solutions to monitor, analyse, and assess energy consumption. Energy saving in series
Today, energy efficiency is a decisive factor for future economic and eco­logical developments in the basic industries. Moreover, the global operators of these facilities must ensure that technical stability and sustainability are harmo­nized along the entire production chain.
As the world's leading refractory producer, we have found an answer for this challenge: The ES-Series – optimised refractory solutions for energy-intensive heat-up, smelting or combustion processes that have an astounding energy-saving effect.

ALMAG® ES
The new concept for a magnesia spinel brick.
With the development of ALMAG® ES – a new magnesia spinel brick – we succeeded in combining higher porosity, lower gas permeability, and high strength. This ensures good thermo­mechanical and thermochemical resistance. In addition, there are clear benefits in terms of energy efficiency.
up to 30% lower heat losses through kiln shell
same performance range as ALMAG® 85
low thermal conductivity
reduced overall weight of the refractory lining
reduced kiln shell temperature


Industrial sectors:
Cement, Lime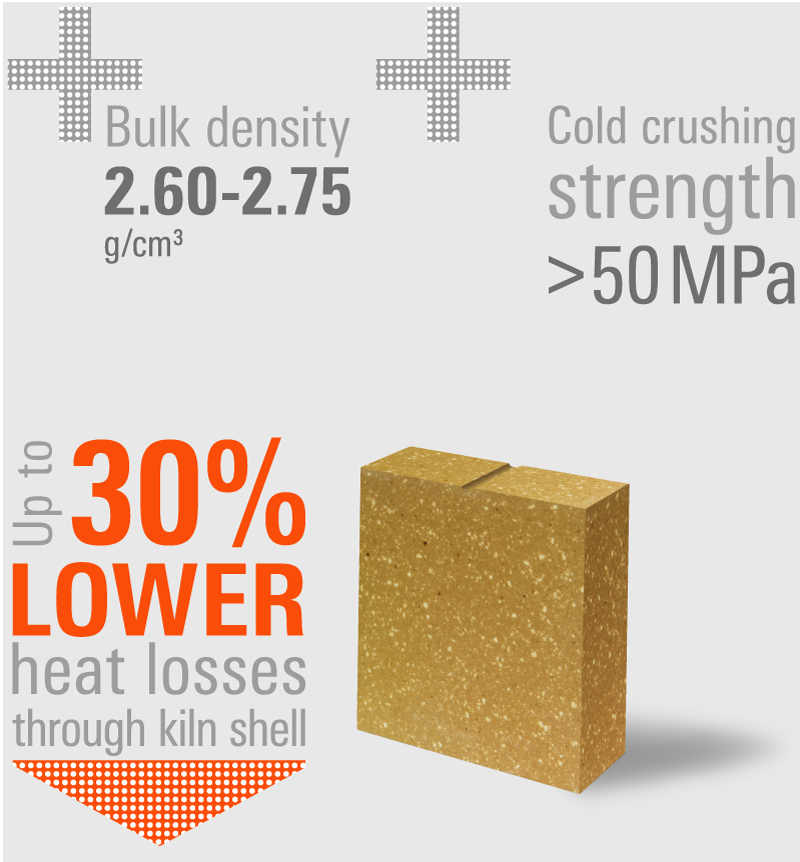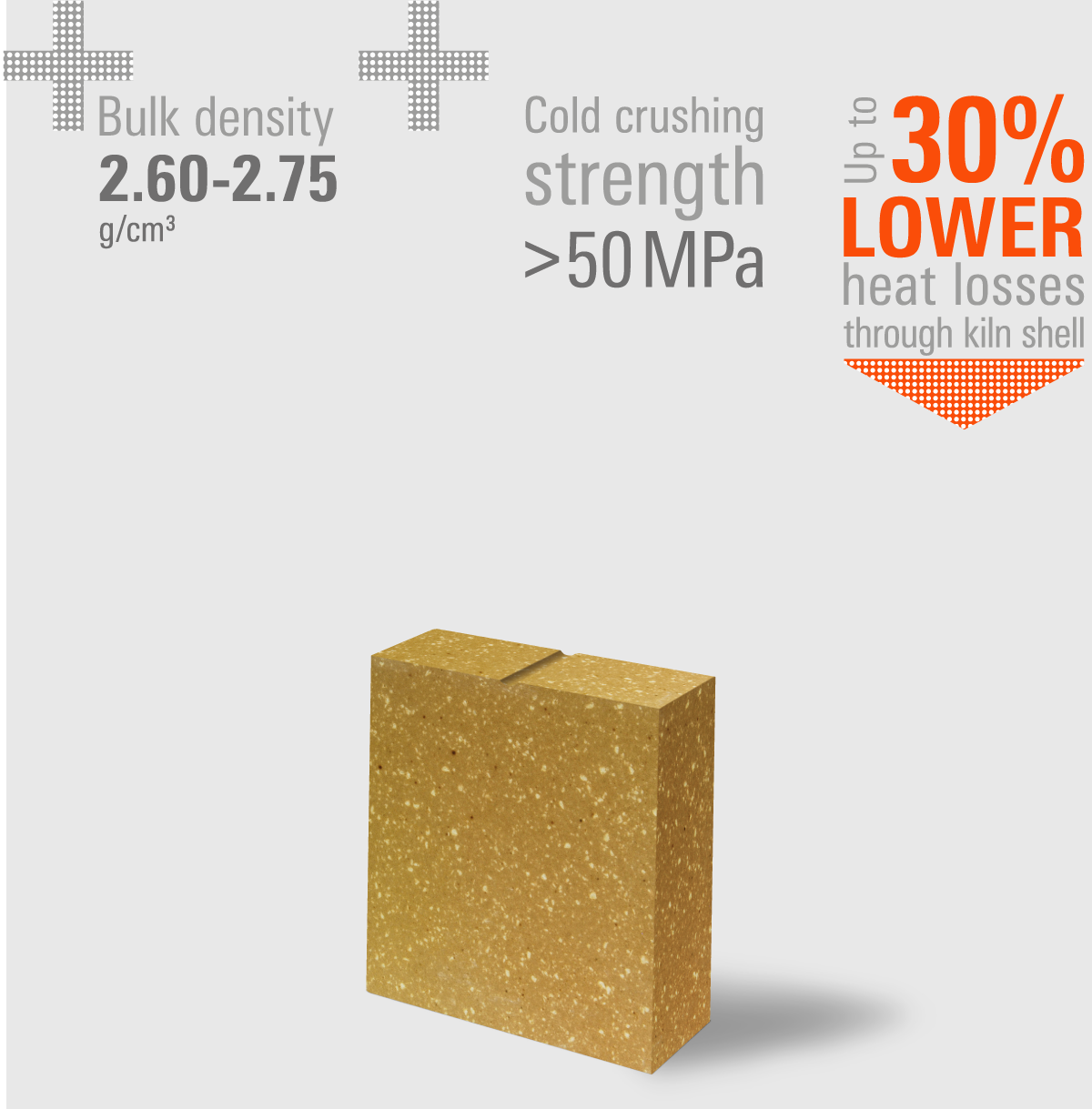 Easy Dry (ED)
refractory technology
Quality and reliability – today and tomorrow.
Easy Dry (ED) refractories are a new development from Refratechnik, with convincing results in everyday use as a result of exhaustive tests.
Suitable for all installation methods, Easy Dry products can be used for refractory lining of every static area in a cement or lime plant, including kiln inlet and discharge zones.
significant energy savings
up to 60% faster heating-up and re-commissioning of the plant
simple storage and unproblematic handling
clearly reduced wear of equipment


Industrial sectors:
Cement, Lime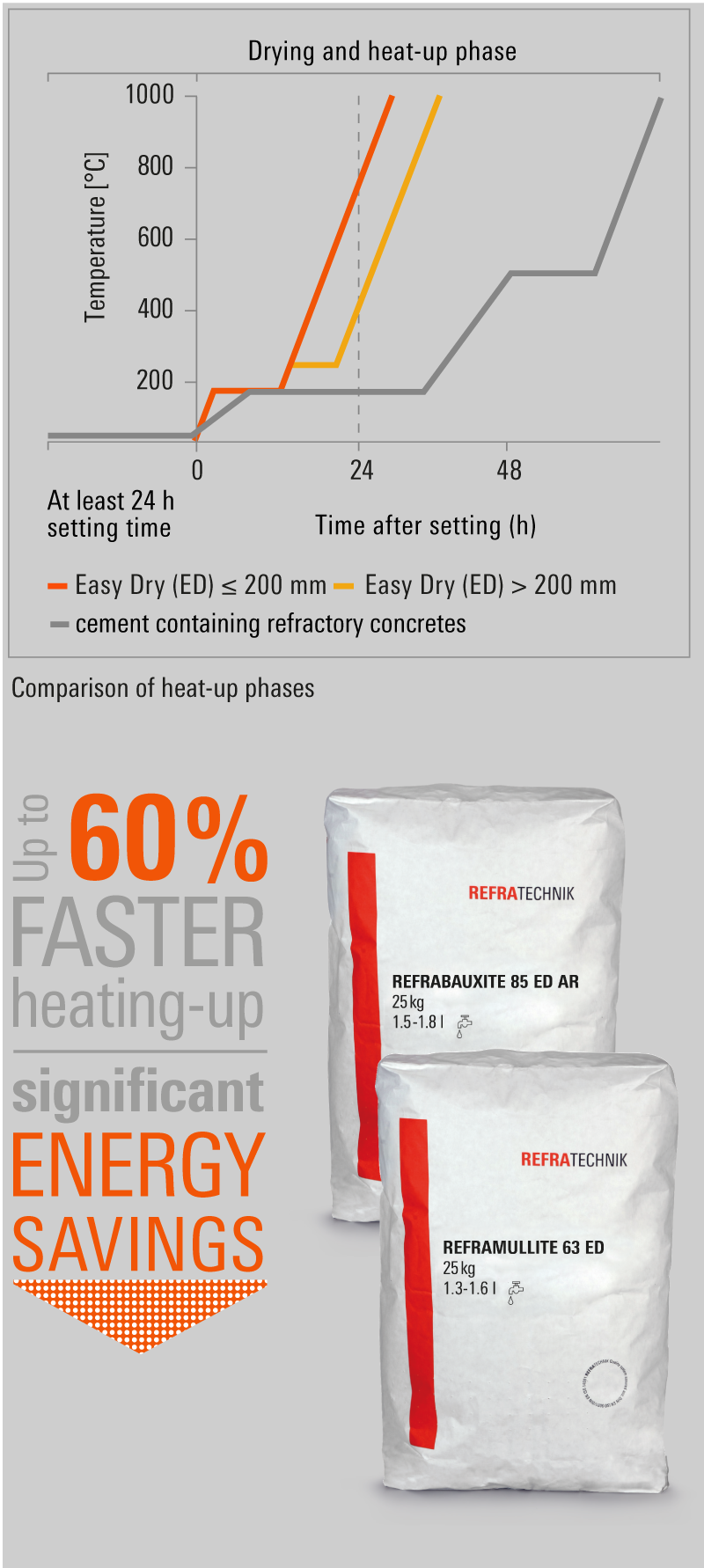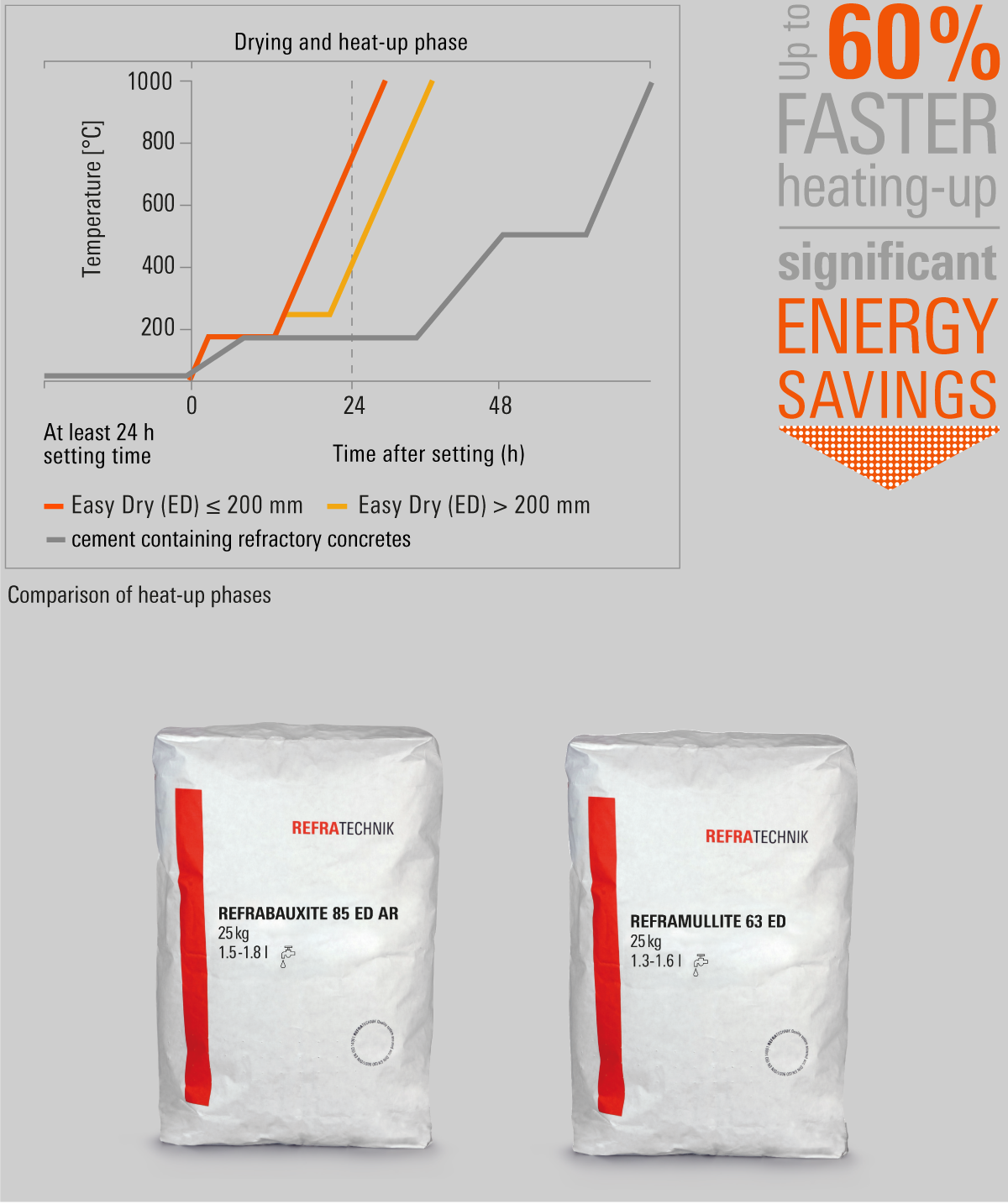 Nanobond
refractory concrete technology
The next generation of monolithic refractory technology.
The Nanobond product range is a new generation of refractory concretes that is insensitive to fast heating up. This results in significant savings in time, energy, and costs.
Moreover, the adherence to other materials is excellent. Overall, Nanobond products are easy to process.
significant energy savings
heat-up rates of 50 up to 100 °C/h are possible
this permits up to 85% faster heat-up time
high thermal resistance for reliable production processes
unproblematic storage life up to 12 months





Industrial sectors:
Cement, Lime, Steel, NF-metals, Aluminium, Others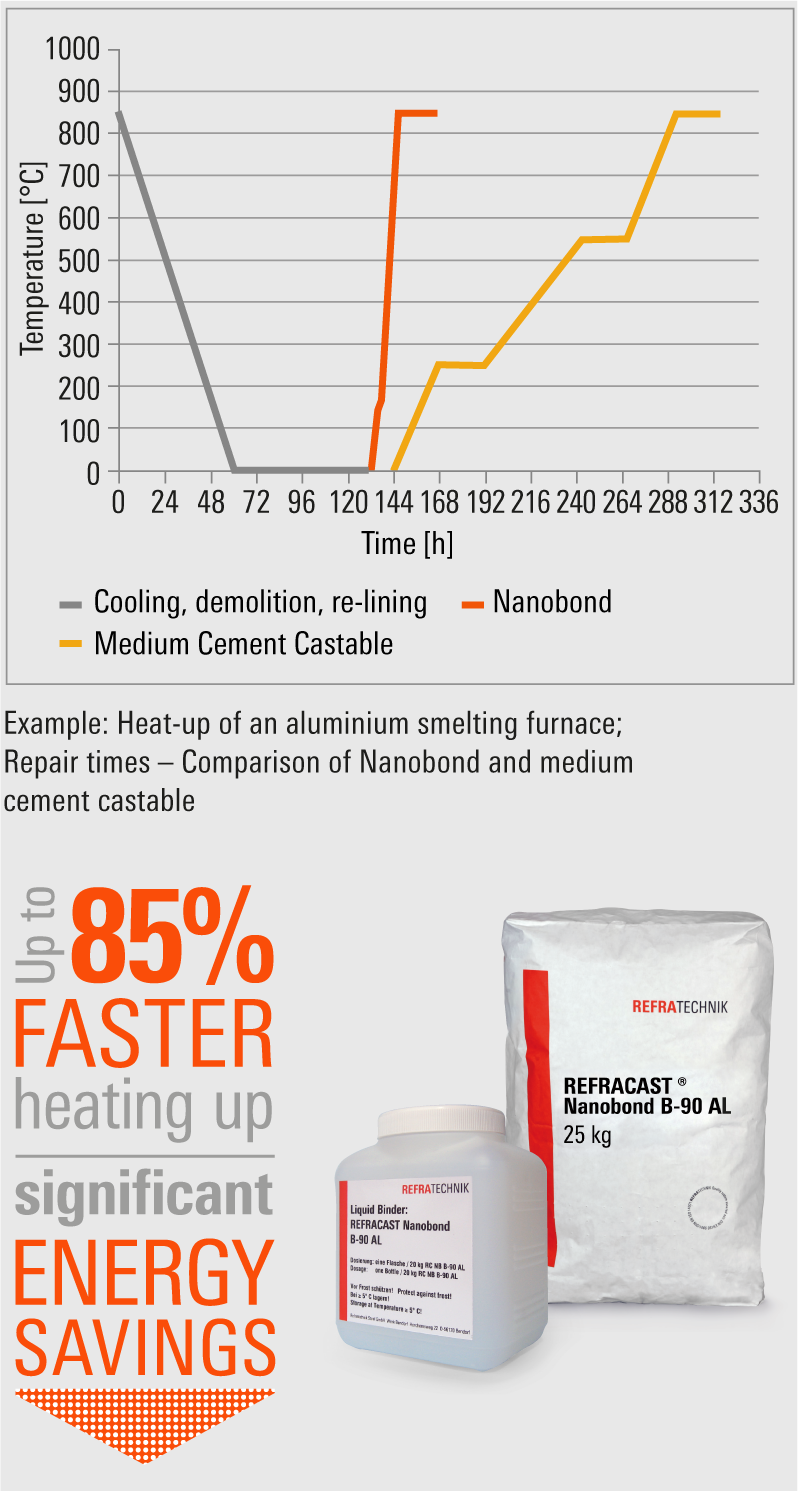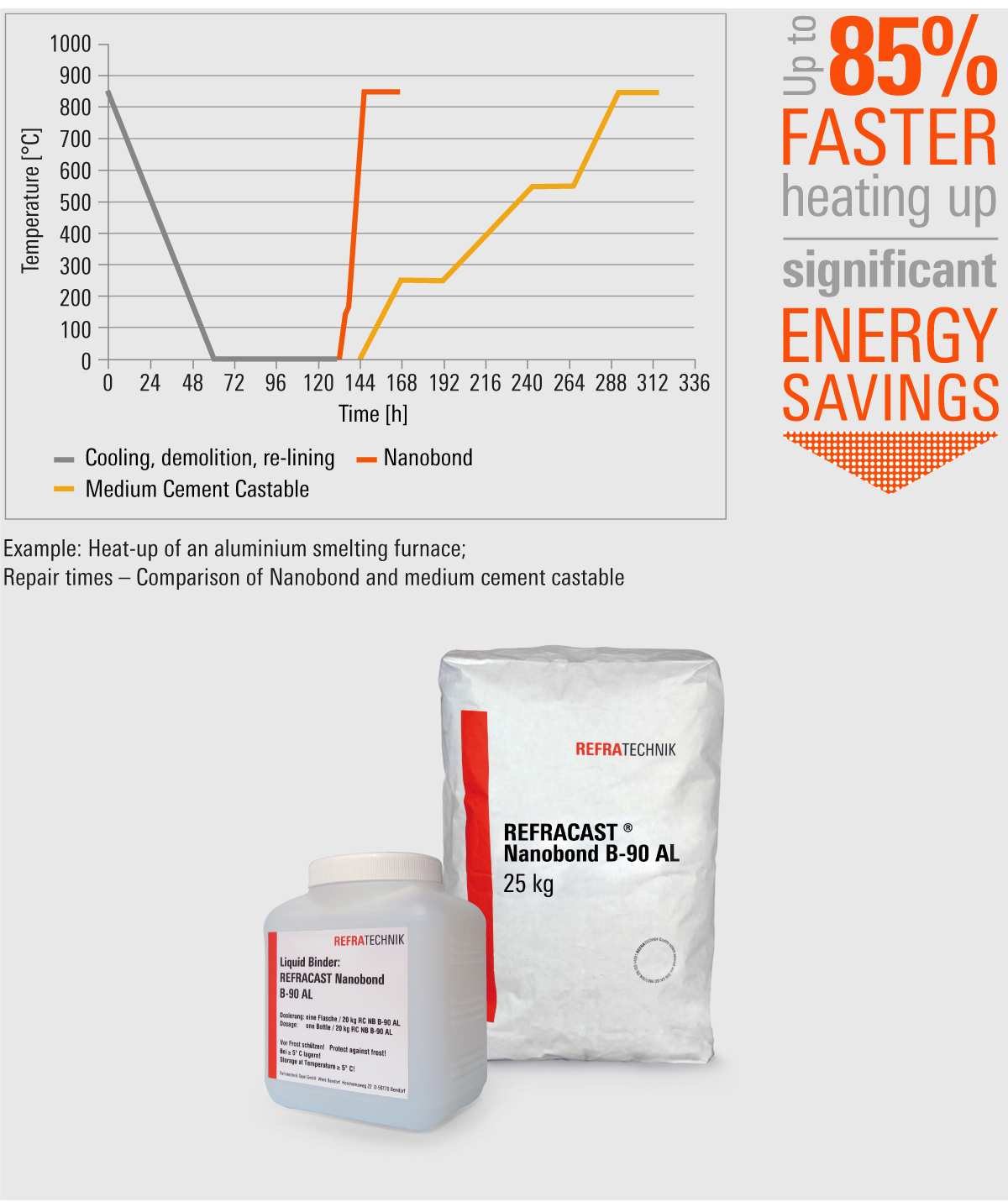 REFRASPRAY®
The fast and lasting solution for hot and cold repairs.
With REFRASPRAY® refractory concretes, the unavoidable intermediate repairs are now possible without having to let the plant cool down first. The plant continues to be available, and productivity remains stable.
Only a peristaltic pump is required for spray application, and for trowelling work, the material is prepared in a normal mixer.
up to 30% energy saved during re-commissioning
simple and safe application
plant does not have to cool down
repair time only about 2 hours



Industrial sectors:
Steel, NF-metals, Aluminium, Others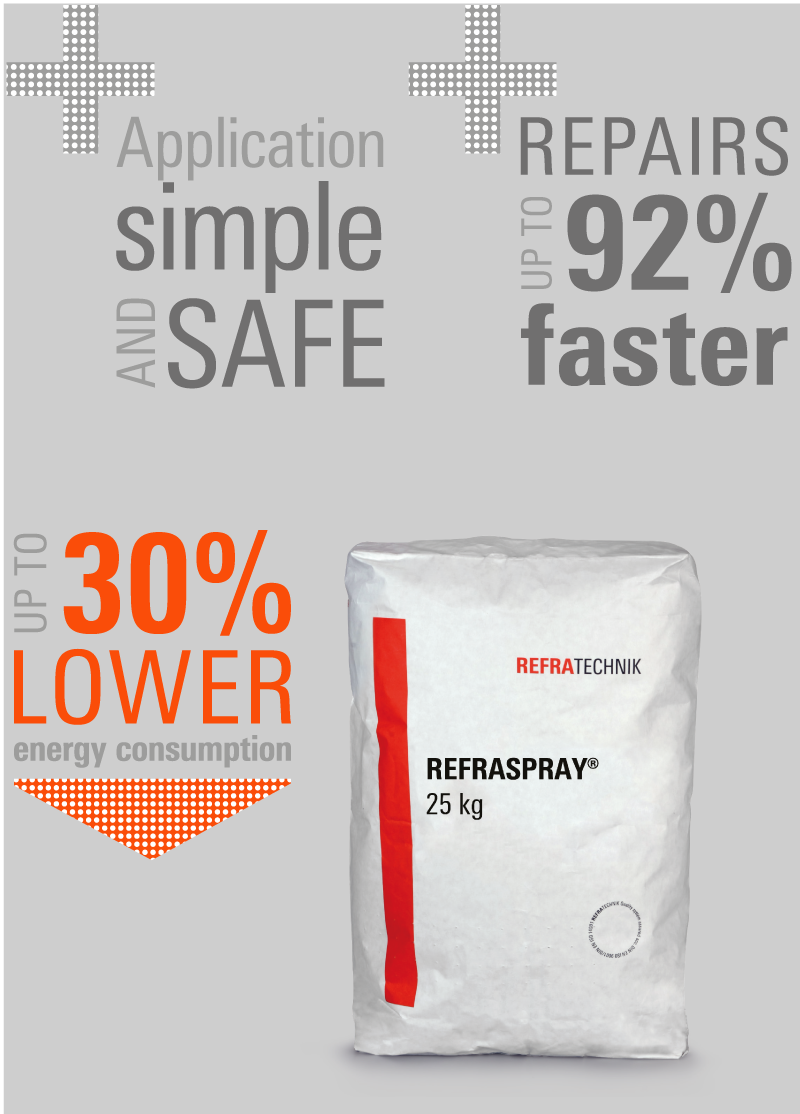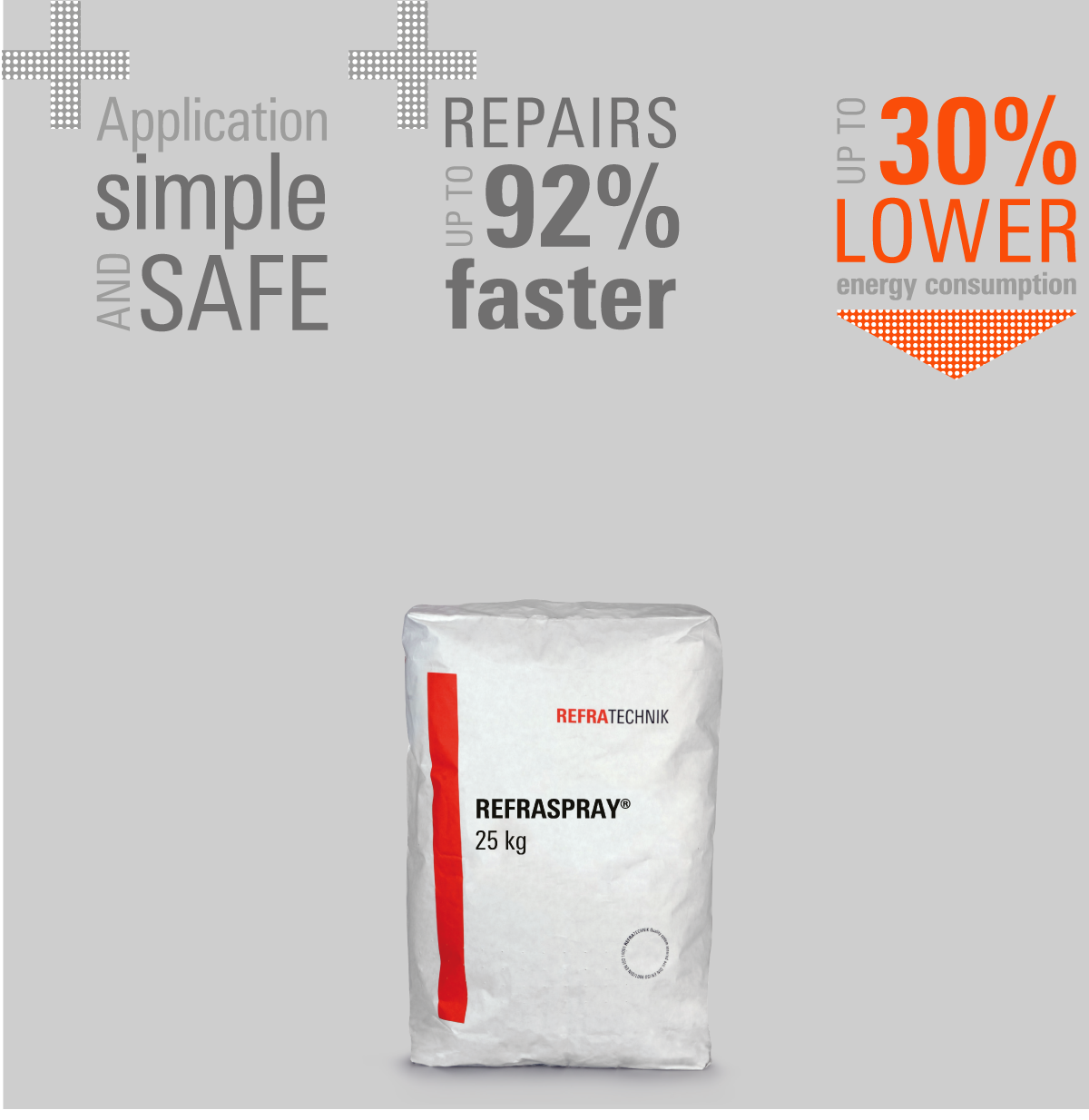 PROLITE®
Optimum insulation with shaped components of biogenic silica.
Shaped components made of biogenic silica as temporary, dust-free insulation in direct contact with hot media
Available as shaped panels, this products combine the outstanding insulating properties of biogenic silica with dust-free and reusable or permanent use. The highly insu­lating panels are suitable for use in a wide range of industrial applications.
up to 80% lower temperature losses
100% natural and renewable raw material
high micro-porosity for excellent insulating properties
applicable with temperatures up to 1600 °C
suitable for a wide range of industries and applications





Industrial sectors:
Cement, Lime, Steel, NF-metals, Aluminium, Others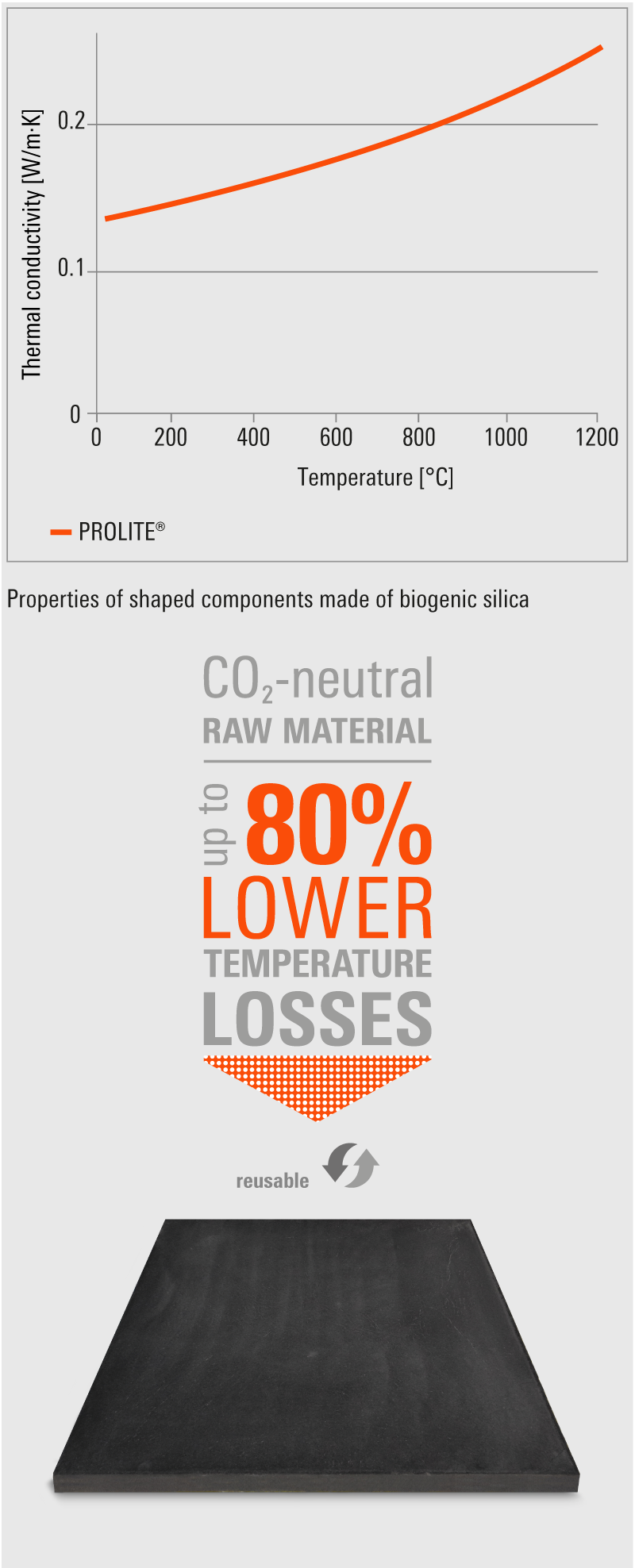 BURCOLIGHT®
Energy saving through weight reduction.
Significantly reduced energy consump­tion in the kiln car area thanks to lower weight of the refractory materials – ­BURCOLIGHT® meets this important demand of the ceramics industry. Due to its excellent thermal shock resistance and low thermal expansion, this refractory system is also a decisive safety factor for production.
up to 30% energy savings in the kiln car area
bulk density of only 1.3 to 1.5 kg/dm3
low thermal conductivity and thermal expansion at 1100 °C
also suitable for short passage times

Industrial sectors:
Ceramics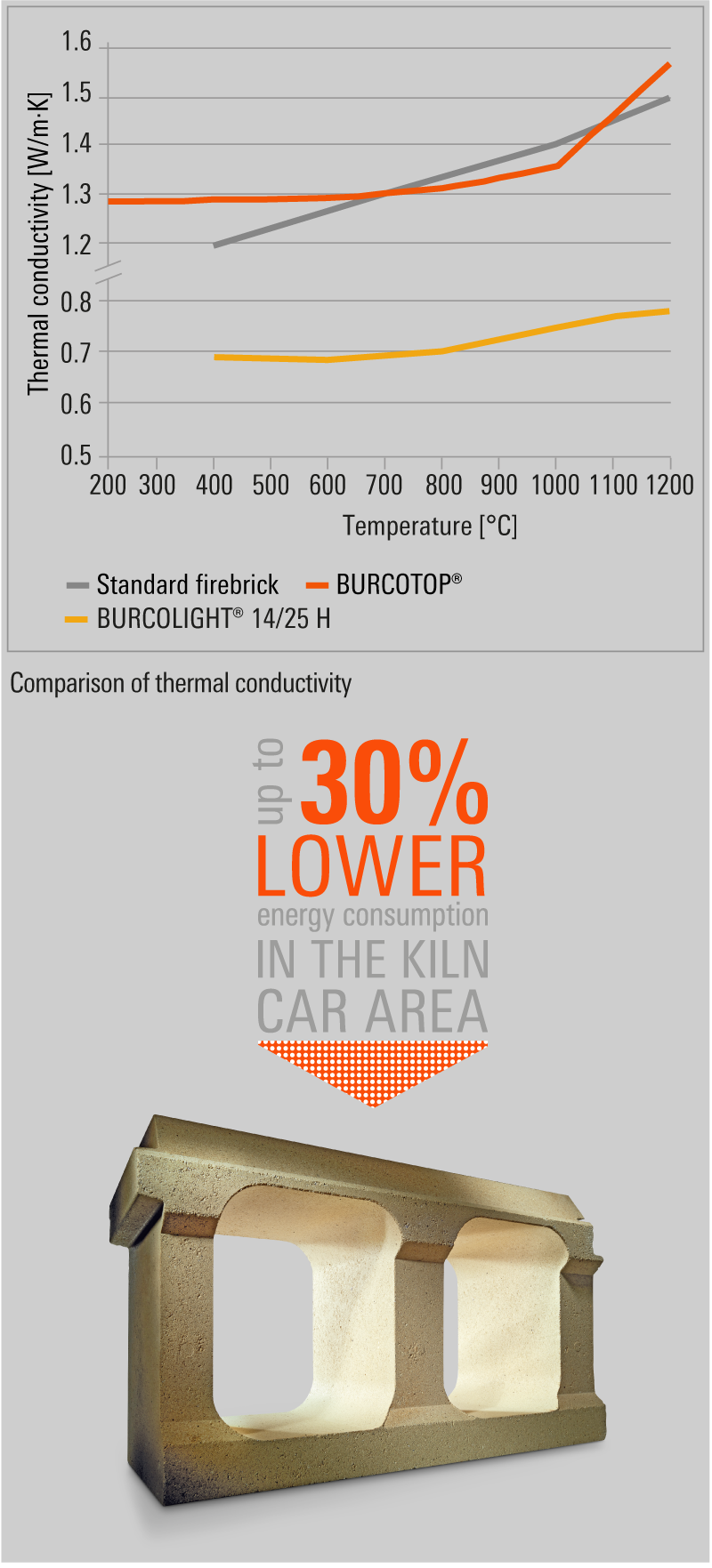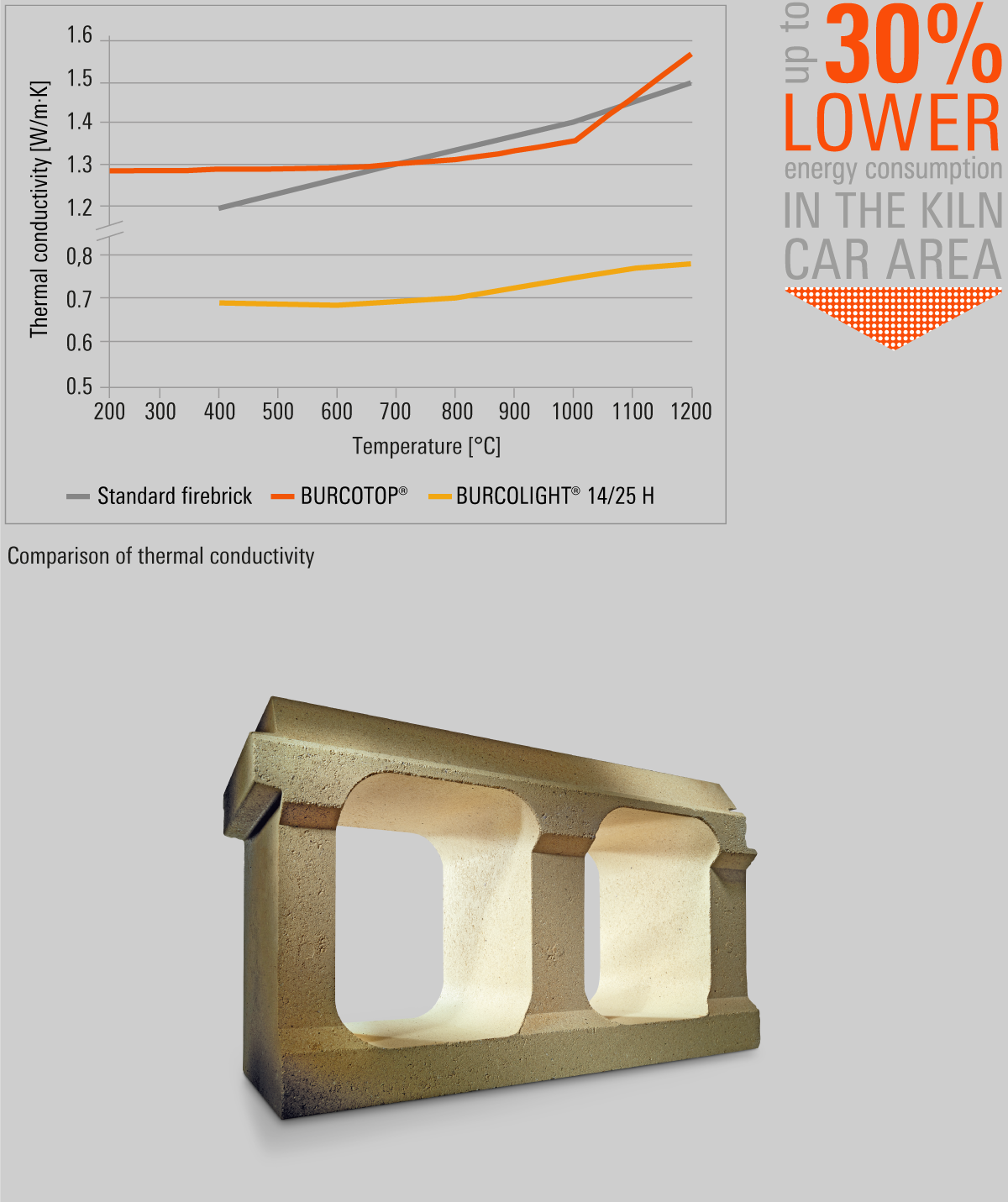 REFRATHERM® Eco
The ideal insulation for kiln cars.
Based on micro-porous silica, REFRATHERM® Eco exhibits a unique combination of outstanding properties. The material features extremely good insulating properties, and the resulting reduction of thermal conductivity is a decisive contribution to cost savings in the kiln car area. It permits very low constructional heights, thereby extending the useful space for the brickmaker. Moreover, the excellent workability of REFRATHERM® Eco enables installation time to be cut drastically.
A sintering temperature of 1550 °C, and a melting point of 1650 °C ensure reliable operation with firing processes in the brickmaking industry.
up to 20% energy savings
sintering temperature: 1550 °C
melting point: 1650 °C
high micro-porosity for excellent insulation
low density
extremely low thermal conductivity

Industrial sectors:
Ceramics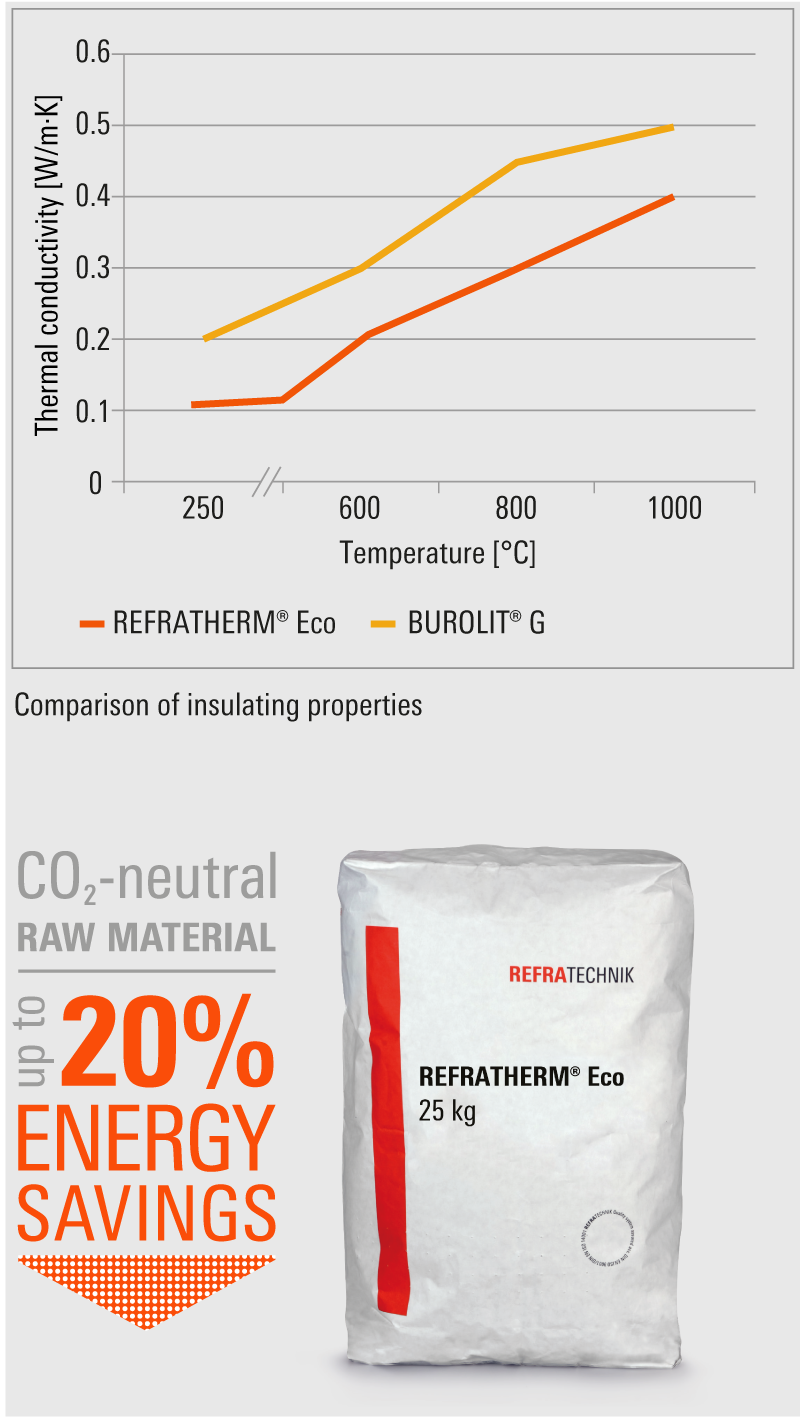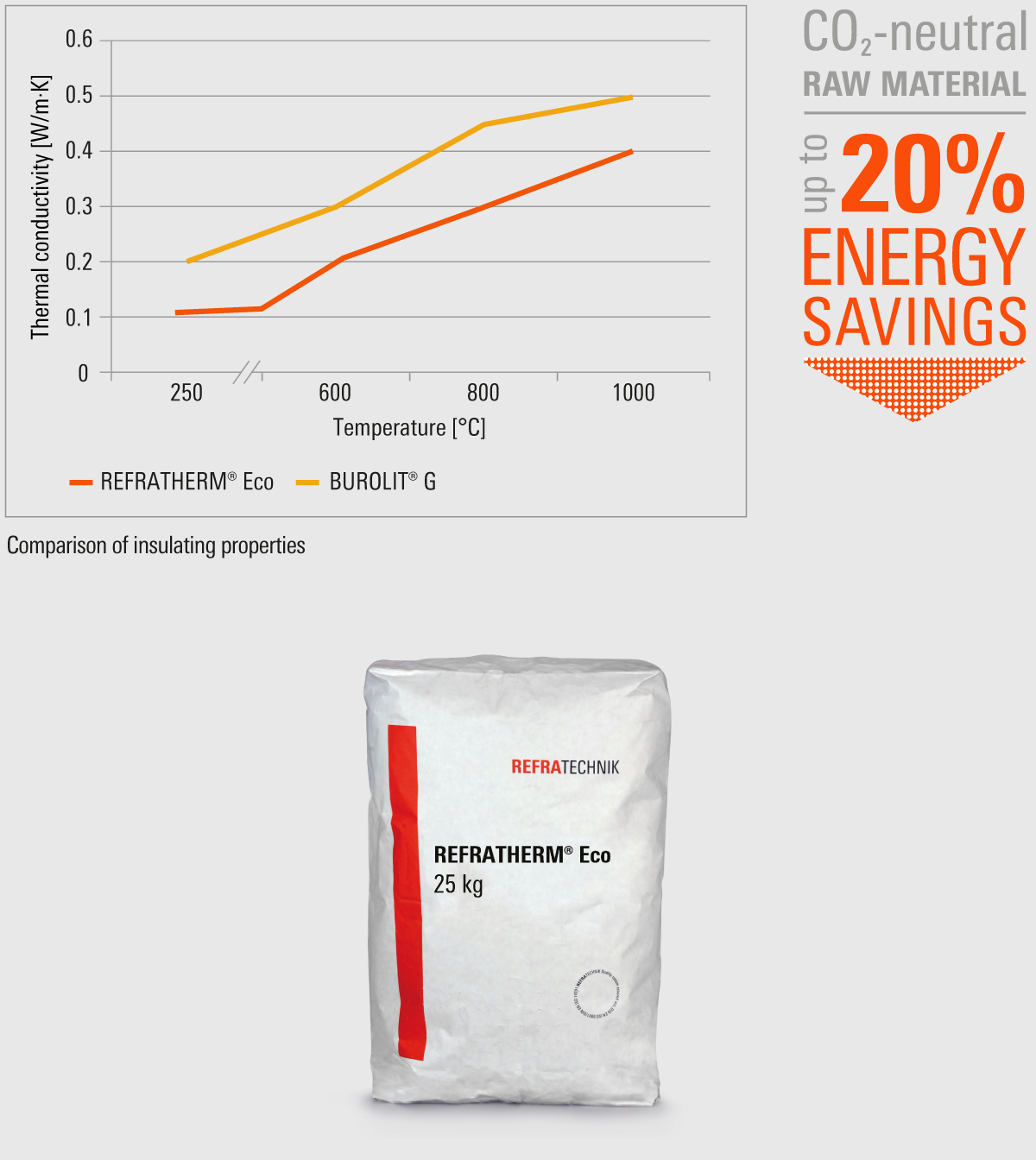 Benefits are programmed
Refratechnik's qualified products of the ES-SERIES permit:
significant overall energy savings
less emissions
reduced carbon footprint
reliable, sustainable production
and all this is achieved
without having to modify the manufacturing process
without the need for additional investments.