Highly flexible and universal
The CF Family comprises a complete range of products which perfectly complement each other, based on a patented elastification system, the pleonastic spinel (fMA spinel). Designed to fit together optimally and meeting today's and future loads, environmentally compatible and convincingly budget friendly.
Our sustainable concept meets your requirements – today and tomorrow.
Pleonastic spinel: the key to success
In Refratechnik's patented ­pleo­nastic spinel technology, all benefits are combined that ­ensure a safe and robust refractory lining. This connects high-quality ­magnesia grades with the modern fused ­pleonastic spinel from the MgO-Al2O3-FeOx system, from sustainable sources in Europe.
High-performance elastifier for basic bricks.
Superior quality right from the start
Aspects to be considered:
Use of alternative fuels and/or raw materials, high thermal and mechanical loads prevailing in the kilns, and, last but not least, a tight budget for the planned refractory lifetimes.
Our solution: the CF Family:
High structural strength
High alkali resistance
High infiltration resistance
Optimized coatability
Reduced heat losses
High stress relaxation
Outstanding thermoplasticity
Enhanced mechanical flexibility
Sustainable availability worldwide
An overall concept
Examples of refractory lining designs offered by Refratechnik: the CF family meets all requirements.
Our overall concept includes both quality and service.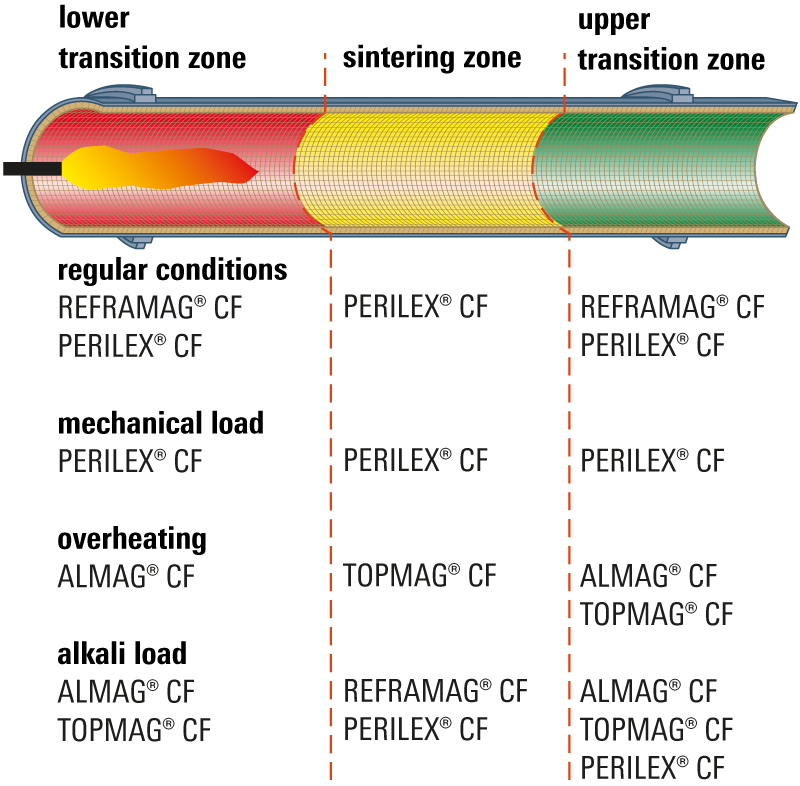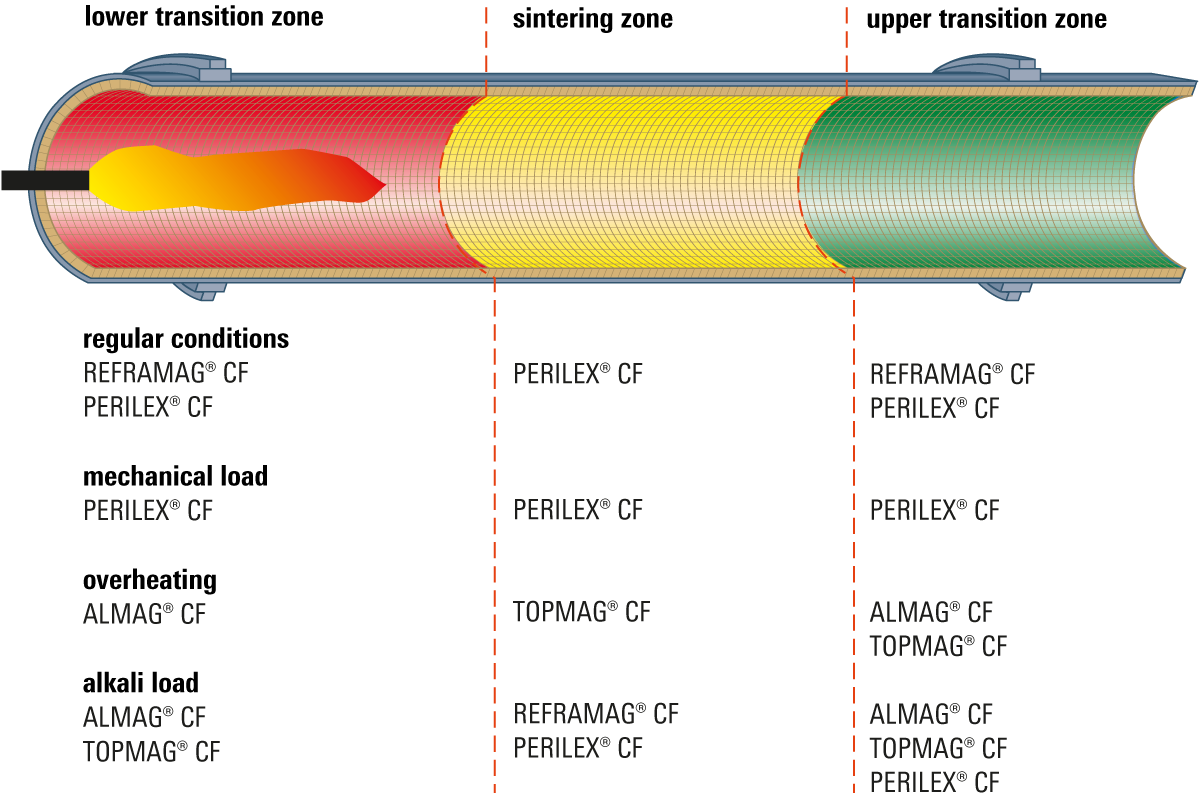 Four winners
ALMAG® CF
Upper and lower transition zones subject to extremely high thermochemical load in kilns using alternative fuels and/or raw materials, optimized coatability, high hot strength, mechanically enhanced, chrome ore-free
TOPMAG® CF
Upper and lower tran­sition zones subject to high thermochemical load in kilns using alternative fuels and/or raw materials, optimized coatability, elevated thermoplasticity, mechanically enhanced, chrome ore-free
Four winners
ALMAG® CF
Upper and lower transition zones subject to extremely high thermochemical load in kilns using alternative fuels and/or raw materials, optimized coatability, high hot strength, mechanically enhanced, chrome ore-free
TOPMAG® CF
Upper and lower tran­sition zones subject to high thermochemical load in kilns using alternative fuels and/or raw materials, optimized coatability, elevated thermoplasticity, mechanically enhanced, chrome ore-free
REFRAMAG® CF
Upper and lower transition zones as well as burning zone subject to thermochemical load in kilns using alternative fuels and/or raw materials, optimized coatability, high ­thermoplasticity, mechanically enhanced, chrome ore-free
PERILEX® CF
Burning zone and upper transition zones subject to thermo­chemical load in kilns using alternative fuels and/or raw materials, optimized coatability, excellent thermo­plasticity, mechanically enhanced, chrome ore-free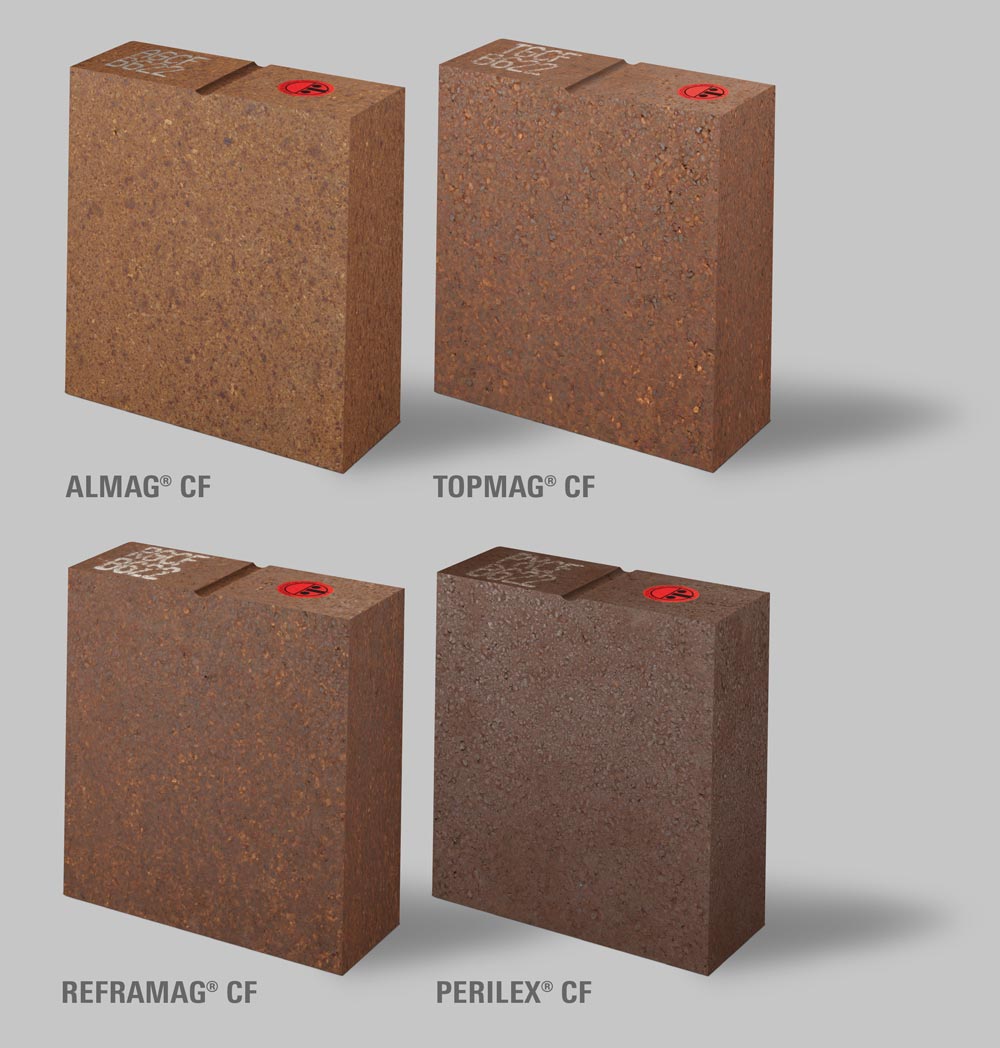 REFRAMAG® CF
Upper and lower transition zones as well as burning zone subject to thermochemical load in kilns using alternative fuels and/or raw materials, optimized coatability, high ­thermoplasticity, mechanically enhanced, chrome ore-free
PERILEX® CF
Burning zone and upper transition zones subject to thermo­chemical load in kilns using alternative fuels and/or raw materials, optimized coatability, excellent thermo­plasticity, mechanically enhanced, chrome ore-free